So here I am, finally updating this sucker. I'd like to start things off with a small project I took on. I'll be doing Disney inspired make-up tutorials. Sounds good? I decided to do this after visiting The Disneyland Resort, and meeting a few of the face characters, I think the way they have to do their make-up is very aging and sometimes a little unflattering. I wanted to modernize the look, make it refreshing. Tell me what you think, who do you all want me to do next? Suggestions are greatly appreciated. So now, before I start rambling, to kick things off we have Jasmine.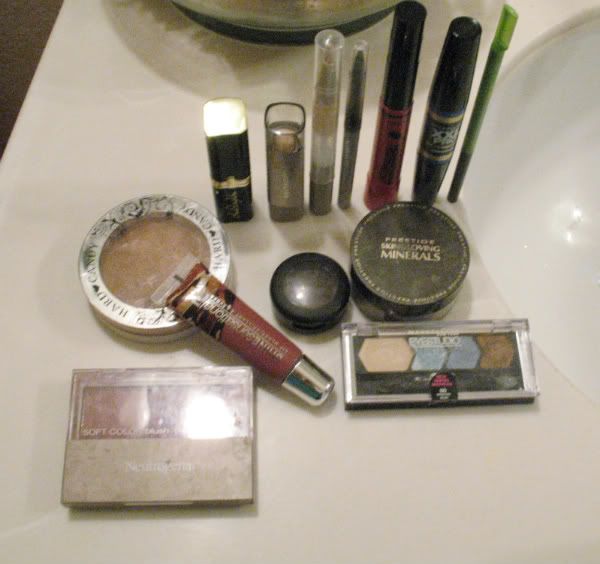 Here's all the makeup that I use in this, I tried to keep it as simple as possible, I don't use expensive make-up so this is budget friendly.
Listing left to right:
Hard Candy bronzer in Heat Wave
Maybelline Shinesensational gloss in Tempting Toffee
Neutrogena Soft Color blush in Plum Perfect
Loreal lipstick in Beige
MAC shadow in Handwritten
Neutrogena Healthy Skin Smoothing Stick in light
Neutrogena Skin Soothing undereye corrector in Soft Light
Neutrogena black eyeliner
Loreal Telescopic Explosion Mascara in Blackest Black
Maybelline Waterproof XXL PRO Extensions in Very Black Intense
Maybelline Define-A-Brow in Dark Brown
Prestige Skin Loving Minerals Shimmering Trios in Luster
Maybelline Eye Studio in Spirited Seas
Not pictured:
Neutrogena mineral sheers powder foundation in Natural Beige SPF 20
Neutrogena acne control moisturizer SPF 20
Garnier Ultra-Lift Pro Deep Wrinkle cream SPF 20
1. Start off with a fresh and clean face. Apply your usual moisturizer, or any other creams you may use, I also put on an anti wrinkle cream underneath. I let it set for about 5 minutes to soak up into the skin.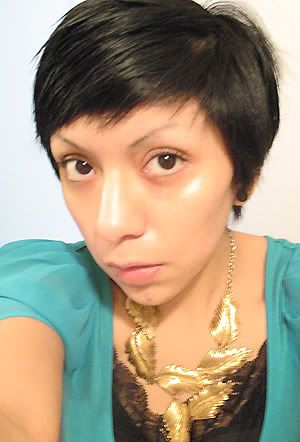 Ta da! I look like a little boy haha! Oh dear.
2. Apply the under eye corrector for any puffiness, or dark circles. Blend it out. No sleep for me, so this is essential.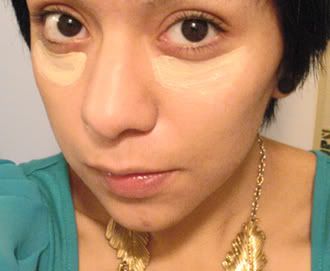 3. Then grab the smoothing stick/concealer and cover up any discolorations.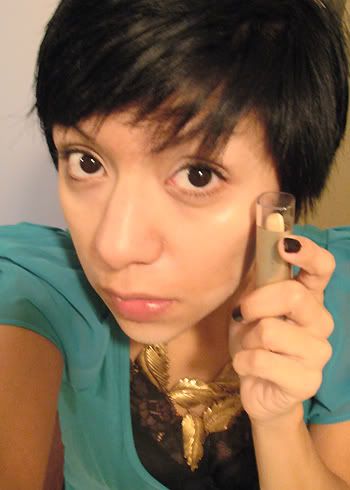 4. I then get my powder, I don't like to use foundation because it feels too heavy, but I apply it all over my face, and down my neck, you don't want a line showing!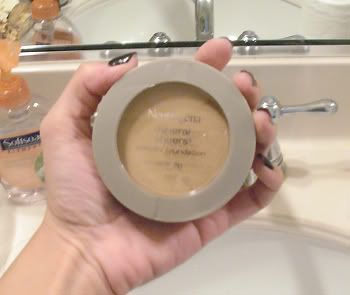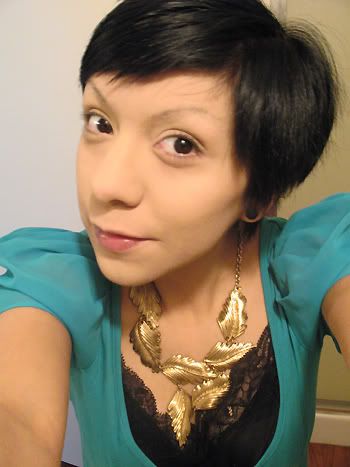 Durr powdery smooooth~
5. Next it's time to draw on your eyebrows! Fill those suckers in! I like to make them slightly thicker for this.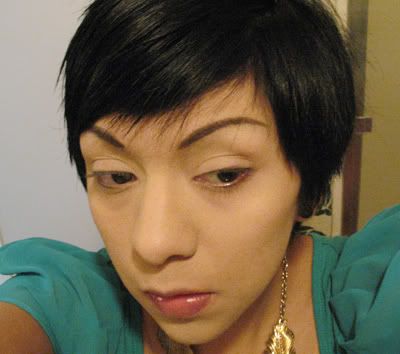 6. It's now time to apply the all over color base on your lids, I like to use this beige sort of color underneath the browns we're going to use later on. I brush it on all over the lid, over the tear duct, under the brow and the bottom lid as well.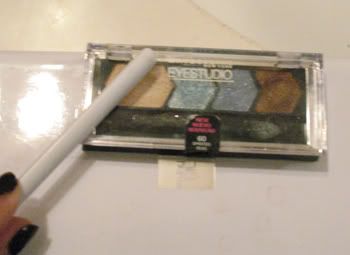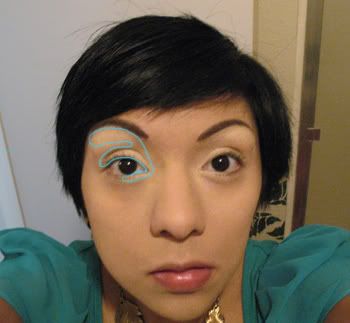 I drew a little guideline to help.
7. I go on to the brown, and I brush it on the top lid almost to the tear duct but not quite, a bit over the crease, and upwards towards the brow.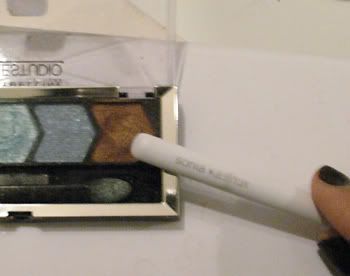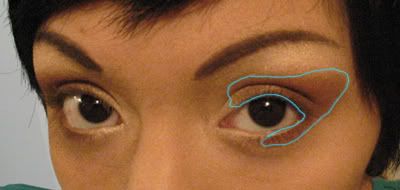 It's easier to draw out what I'm trying to say.
8. With that done, I want to add just a little more depth, and so using the shimmering loose powder trios, I'll be using the darker brown to add shadow to the crease, and the beige color to add highlights on the tear duct and under the brow.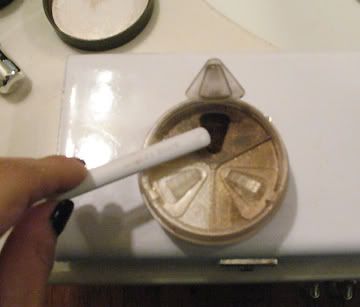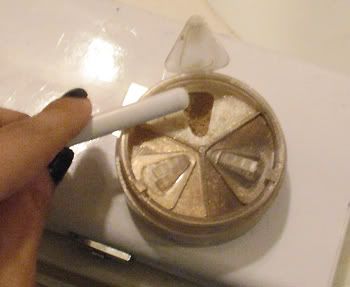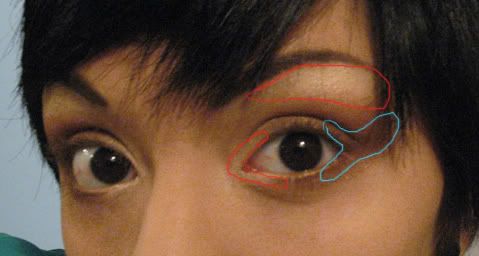 The cyan line represents the dark brown, and the red represents the beige.
9. I don't really like using liquid liner as much, this is just my preference. Now though, using the black liner, line the top of your eyelids first. Afterwards go ahead and line all around the eye.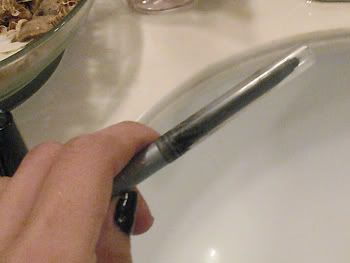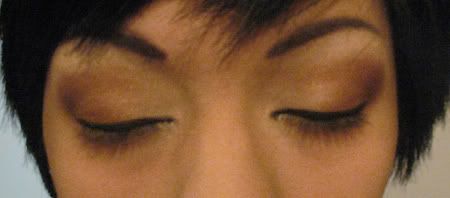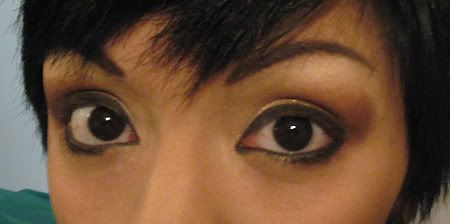 This is what you should have so far, it's alright if the bottom lines aren't even because in this next step it'll soften up the harsh lines on the bottom lid.
10. I like to use a sort of soft effect on the bottom lids, and so using my MAC shadow and a thinner brush, I am going to go over the bottom lines to create a sort of shadowy look.
I love this color so much, I use it for almost everything, the purple fleck is just so pretty!

Bye bye harsh lines!
11. Now grab the black liner again, and pull out the line, cat eye style, to make it more exotic.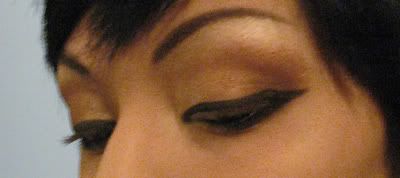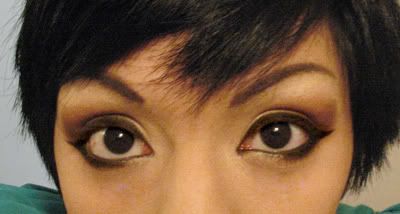 Almost done with the eyes, next is my favorite part.
12. I don't like to wear false lashes all that often in a daytime look unless it's a real special occasion, you guys can go ahead and wear them or you can just apply some mascara, lots and lots of mascara. I like to use two different ones, first the Telescopic to separate the lashes, and to make them look thicker, and then the XXL Pro to make them longer.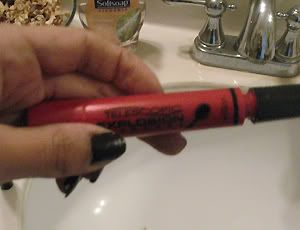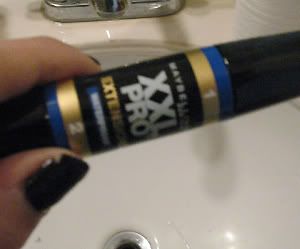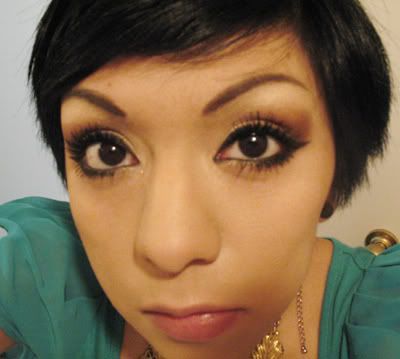 There you have it, the eyes are finished! Everything from here is easy cheesy.
13. Yeah yeah I know I do things sort of backwards, but I like to apply my bronzer after I finish the eyes, eh what can you do. You want to grab a big round brush, and apply it in all of the places the sun touches, your chin, your forehead, your cheeks, the sides of your nose etc. Make sure to get your neck as well, and blend blend blend!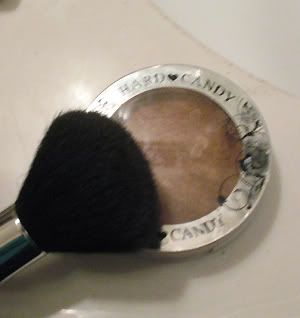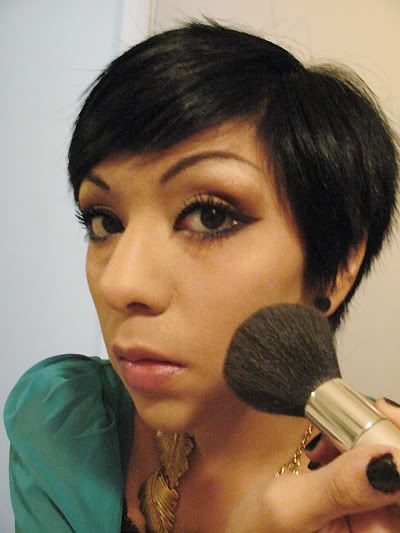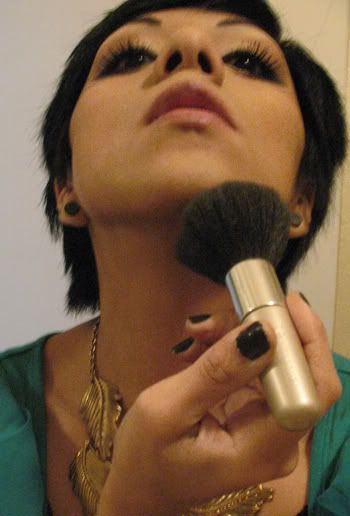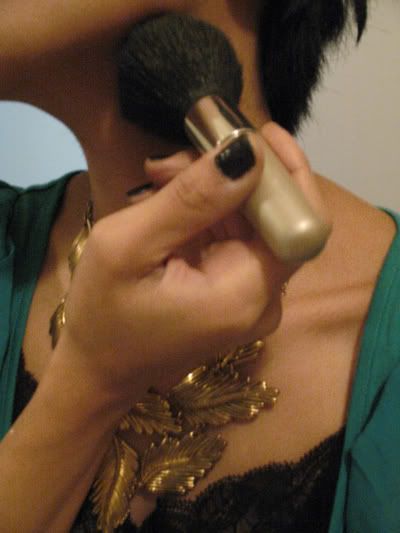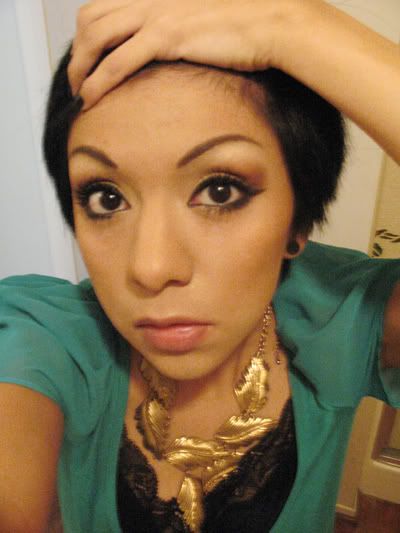 Sorry forgot to draw guidelines but I'm sure you guys will get it.
14. After you have your bronzer finished, you'll want to apply some blush to add a bit of flushing to the face. I just dab the brush lightly and I put it on the apple of the cheek.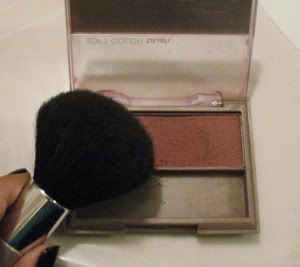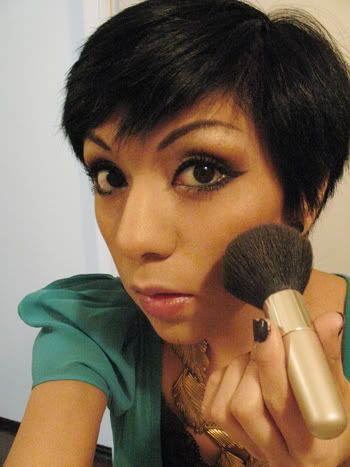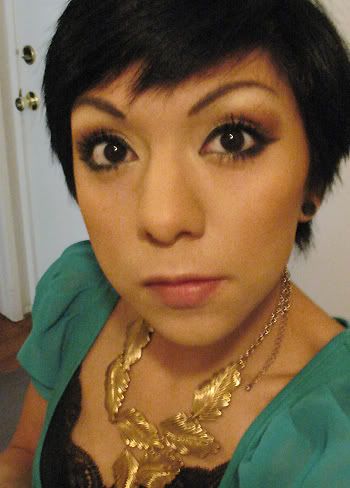 You don't want to go too overboard, just enough for that plum to show through.
15. Were almost done you guys! Now the final part to finish up everything are the lips! Since the eyes are so dramatic I wanted to go ahead with a lip that was closer to the natural skintone. I start off with the Beige lipstick, and then apply the gloss over it.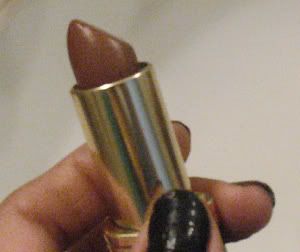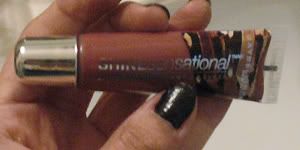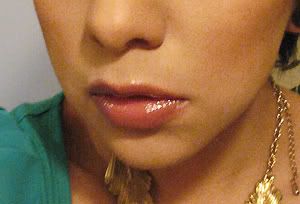 You're all done! Now go ahead and grab your Jasmine wigs, and cute accessories, and camwhore? I don't know. Go out and knock them all dead.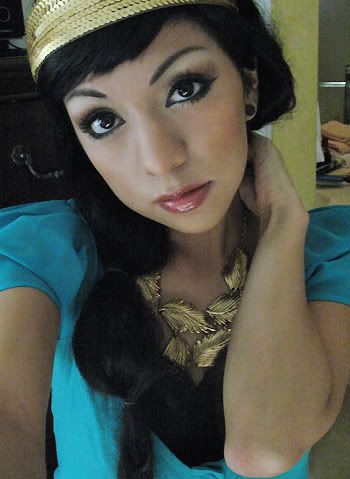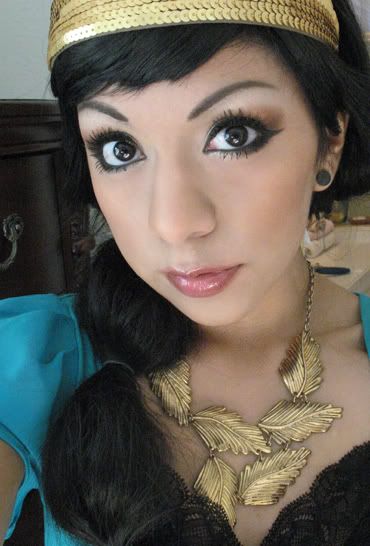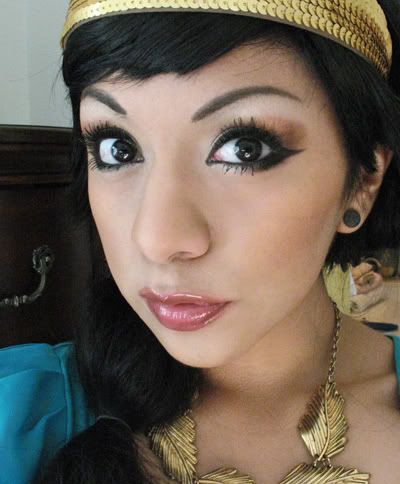 I don't have a Jasmine wig yet, sorry haha! I have to work with what I have. I hope you enjoyed this and if you happen to try it out, I'd love to see it!